What are you up to today? As I mentioned, my youngest starts school today, and her headed-to-college-brother and I are going to see a movie...."R" rated!....guess who's not happy about that ;-)
I-373 Puzzling Memories by Peggy Mages
I saw
Craft Hope
updated their website with their latest crafty news.
Project 14: Christmas in Dixie
is providing handmade stockings to 12,000 families that lost everything in the tornadoes. The deadline for this project is September 23 so head on over to read the details.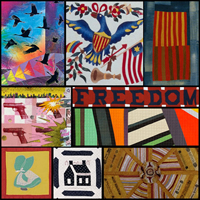 Why Quilts Matter: History, Art & Politics
is a nine-part documentary series airing on PBS this fall. I have bookmarked this site to watch the trailer when I have more time, but it seems very interesting. The DVD is already for sale on their website.
Since I haven't been online much lately (big surprise, right?), I'm sure there is much more going on in the quilting world that I am not aware...so....what's up?
Have a wonderful Wednesday!!!!